The Doll Maker's of Glitter Town
|
home




The Glitter Town Library

Shhhhhhhhhhhh! Quiet Please! This is a Library where you will find information on dolls, dollmaking and some computer stuff.
Making your own stationery with style by Patti LaValley
Go into OutLook Express and look for Tools in the line at the top of the page, Click on it and then on Options. Click on Compose and a box will appear the says Create New, click it! Then choose browse to find the photo you would like to use and follow the instructions as prompted by your computer.
When Finishing off seams, instead of stopping at the end of the seam, back stitch a 1/2" and you won't have those anoying little threads hanging that can ruin the look of a wonderful doll.
DO you have threads and things stuck to your cutting mats? Try this, use a nylon scrubber to remove them. Makes it just like new.
When coffee dyeing something, instead of using regular coffee, go for the gusto and try the flavored coffees. The aroma lasts a long time. It's the same with tea dyeing.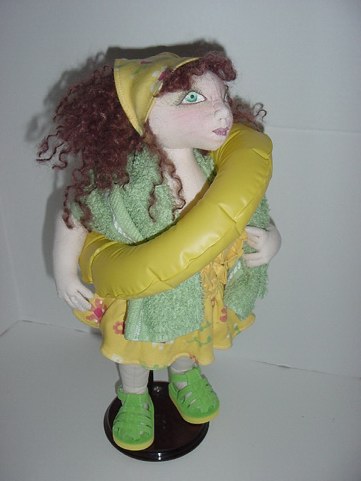 Logo Doll Created by Kathy Nelson
Isn't she sweet, all ready for the beach.
Pattern available Now through February 28th!
Fingernails for your dolls- For plain naked nails, draw a U-shaped line around for a nail bed on the top side of the finger using a brown gel pen. Draw a white line across the tip to indicate a nail tip. (SC)
Or cut artifical plastic nails from the salon or Walmart to fit the finger and glue in place with hot glue. (JA)
Or use Silk Nail wraps from the Salon supply store to build the perfect nail. (RT)
When using the One And Only Curly Hair for your dolls, remember to scrub the hair in your hands to take that artificial shine away and it will lok more Natural. (SC)
When Turning your fingers instead of pushing the finger inside of the larger tube, dampen your finger and slide it up over the smaller tube. This helps to prevent some of your blow outs. (MR)
For Making upper eye lids on your dolls, remember to cut your piece of fabric on the bias. It will conform better to the eye. (SC)
When Writing an artist statement besure to include the important doll making qualifications and what lead you to where you are. No Need to go into a life history, just let the judges know you are proficiant at what you do. (MR)
Fine tube turners- take an old radio anntenae apart, file any rough or sharp edges. And you have your self a new set of tube turners to use.
When gluing Pompoms to the inside of noses and boobs of your dolls, attach them to the seam allowance. This gives a much better appearance without stiffness.
Covered Buttons with a twist!
You'll need matching "skin" fabric for
this. I learned this technique while doing Melinda Small Paterson's
dragon pattern.
If the button is 1/2" across, you can easily do this using a quarter.
Lay the quarter on your fabric and trace around it carefully. Do this on
single fabric and cut each button out itself. If you use double fabric,
you could cut crooked on the bottom circle.
Once you have the circles of fabric cut out, do a basting stitch close
to the edge. Do NOT cut your needle and thread off. Leave a tail of
thread at the beginning of the basting and leave a tail of thread at the
end of basting.
Lay the fabric circle over the button and gently begin pulling both tail
threads. The fabric circle should begin to pucker under the button. Once
you have the circle of fabric snugly and smoothly over the button, tie
both thread tails together a couple of times (this will be tied "under"
the button). Carefully cut the loose threads off. Voila! A covered
button!
Mechelle Reames